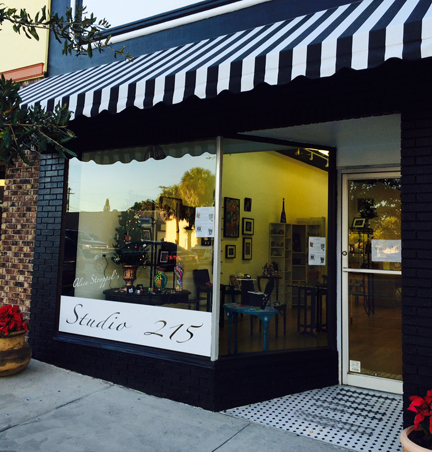 Alice Stroppel's
Studio 215
215 Ridgewood Dr.
Sebring, FL 33870
What a whirlwind! One month ago I purchased this wonderful building in Historic downtown Sebring, FL. It's two blocks from where I grew up and so special to me because it belonged to my great friend Janet King and I hung out there loads of times in recent years.
I renovated  the building inside and out. I've enjoyed having my studio at home and I will still be working there, but I wanted to spend more time teaching and sharing what I've learned about this incredible medium, polymer clay.
I will be featuring works by  two of my favorite people, watercolor artists and  Florida Watercolor Society Signature Members, Janet F. King and Alice Hansen.
I have a permanent fully stocked workshop space for 8 students and room to hold larger workshops for up to 16. Pasta Machines, tools, tiles, etc. I'll be starting classes for both beginners and experienced polymer clayers in January. I will have everything you need to create your first pieces.
And more exciting news is that I will be hosting workshops with some of the talented polymer and multimedia artists in the country. Meisha Barbee and Laurie Prophater will be here teaching in February and Julie Eakes, master caner,  will be here hanging out with us.
Meisha was my partner and made the first collaborative pendant with my Stroppel Cane that was featured on Polymer Clay Daily. An incredibly talented artist and colorist, you won't want to miss this workshop.
Laurie has promised me an exciting class as well. Laurie is the owner of Ornamental Elements .com  and has been featured in numerous magazines including Belle Armoire and Polymer Clay Cafe.
Two artists that inspired me in the early days of polymer are coming to Studio 215. Syndee Holt has promised to come teach a couple of workshops in May of this year. Syndee is a representative for Sculpey and has been featured in more articles and publications than I can mention here. She is the author of Polymer for the First Time.
Maureen Carlson will be here in 2016. Maureen is owner of Maureen Carlson's Center for Creative Arts in Jordan, MN and has a long list of credits from TV to published books. Maureen has her own page on Amazon.
As you can see, I have great plans for Studio 215 and some surprises so stay tuned.
My posted hours will be Thursday, Friday and Saturday from 11:00am to 3:00pm. But that doesn't mean I won't be there most of the time teaching or working on my next big project.
I'll be posting classes sometime next week but I can tell you now that I will be having open studio night every Monday from 6pm until 9:30pm, prices to be posted later. This will be a time for you to come and play and share and enjoy the company of other enthusiastic clayers.
Grand opening news to come.
Thanks so much everyone for your encouragement and kind words.