Workshops that I will be teaching at Studio 215 throughout the year 2015
Download the Workshop PDF Alice Stroppel workshops 2015
For more information download current schedule and pricingStudio 215 workshop schedule Jan-Mar 2015
Currently I will be teaching an Introduction to Polymer Clay workshop in a full day workshop and in a couple of evening classes
I am also offering a workshop to help you build your cane inventory so you will be ready to take on any project that comes your way.
There will be two Master classes in Feb. the first will be a workshop with me that includes cane work, cane mapping, pen and ink, texturing and antiquing.
I am very excited to announce a Master class with Meisha Barbee,
MICA SHIFT WITH APPLIQUE 
Feb. 21 & 22, 2015
For more information Download the flyer Meisha Barbee – Master Class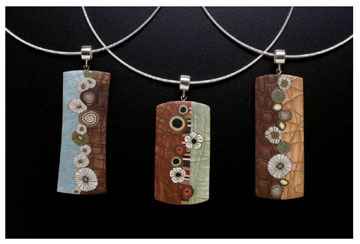 To reserve your space download the form here. Meisha Barbee – Master Class
Coming in March
Extruder Bootcamp
Mari O'Dell Seed Pod and Tassel Blossom earrings
Overcoming the "Fear of Flying" or How a tool saved my creative life and what it can do for you ! 2 day Workshop
March 28th and 29th 2015
 Download application form here.