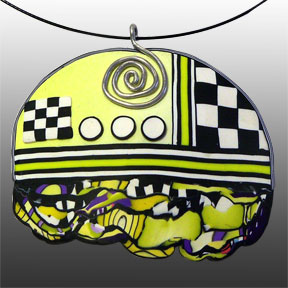 I couldn't let everyone else have all the fun with the Stroppel cane. Can you tell I love lime green? And I think the black and white check sets it off.
Listed in my Etsy shop. I made my own bail on this one.
Oh and just so you know, it is an absolutely gorgeous, spectacular day here in sunny FL. I think this afternoon I need to get outside for a bit. Sitting down by the lake sounds a bit like heaven. Now if I can just tear myself away from this creating mood I'm in……….