This might be a long post…just so you know….
Thank you, thank you, and thank you some more. All of you who left a comment, joined my newsletter list, emailed me, ordered one of my videos from my Etsy shop, left a comment on Polymer Clay Daily or just stopped by to take a look at the Stroppel Cane.
I was truly blown away by the amount of traffic that my funny little blog generated in just a few days. I owe a great deal to Cynthia Tinapple at Polymer Clay Daily and to my blog and newsletter followers.
I knew I liked my new cane, but really didn't realize just how much everyone else was going to like it. I'm thrilled to be able to share it with everyone. When I first started with polymer clay, I learned so much from the generous people on the internet and it was all free. Now, just to keep up with all the fees out there one has to make a little money here and there, but I will always give away as much as I can, kind of a play it forward kind of thing. So feel free to share the Stroppel cane with anyone you think would enjoy it.
Again, it makes a big difference to know that there are people out there reading, watching and interested.  The comments that you all left really meant so much to me. Thank you all.
Now on to other things. This picture is of what I did yesterday between answering all the wonderful correspondence. These are bracelet blanks covered with clay and baked. I call them canvases because they are ready for the next step of ink, markers and TLC.
I have several reasons why I needed to make these blanks.
1. I need more stock in my Etsy shop
2. I made a trade agreement with two very famous delightful pc artists
3.  I'm teaching a class on the 15th and need samples to show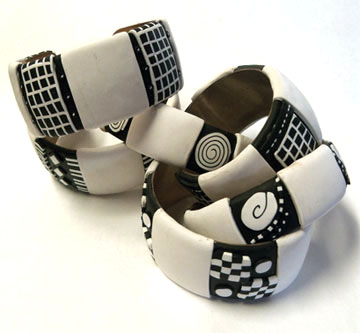 I cover the blanks with a layer of black, then sections of white and in between I place black and white canes.
The first trade I made was with Laurie Prophater and I already have the bracelet and have been enjoying it so much. It is simply gorgeous, I am thrilled.  Laurie's blog is that fabulous one we all love to visit Ornamental Elements. Here's more good news, you can own one of these fabuloso Faux Ivory Bangle Bracelet bracelets for yourself Just visit Laurie's Etsy site.
Each side is different and so lovely, plus she makes the accent pieces herself. I need to hurry up and get her piece finished. I have a couple started and will probably give her a choice like she so graciously did for me.
I'll let you in on a big secret. Laurie's bracelet has given me so many ideas to try using my style and she has given me the okay to use the basic idea. But if you know me, you know my crazy mind will take me places no one else has been before. lol. I already have one (actually two) made, but am not ready to show you yet, when have I had time anyway? The past few days have been very busy and so much fun.  And I'm all about the fun!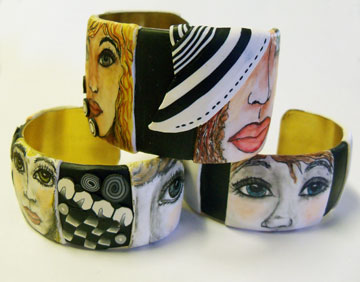 The bracelet on top is more colorful and I've added some canes for hats and accent pieces. The bracelets on the bottom uses more of the white background giving the faces a kind of gothic feel I think. Next group, I'll do just black and white and red lips, maybe some color in the eyes, like some of the first bracelets I did when I developed my pen and ink technique.
I'm teaching a class on the 15th of the month in Mount Dora, FL at the Mount Dora Center for the Arts.  Come on and join me, you'll love this quaint southern town that loves the arts.
Here's  a link to the information and the phone number for registration is 352-383-0880.
Back to drawing faces. Thanks again for everything, you guys are the best.