Happy New Year everyone. I'm excited to be back to play…er..I mean work. I hope everyone had as wonderful a holiday as I did. I walked away from the clay table for a week or so and now I am back full force and ready to try new things.
I asked for and got, some really cool Figure Drawing books for Christmas and will be playing around with more Pen and Ink as well as polymer clay faces.
I am also beginning work on some other ideas that I had. My goal this month, forget the whole year, is to get a couple more of my most popular designs into tutorials. And to hit the road teaching, plus have more classes right here in my studio.
In the mean time I'm still producing my bracelets. Here's the latest pen and ink.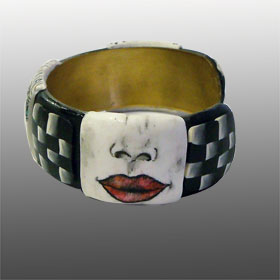 I'm excited to begin my next project. Stay tuned.