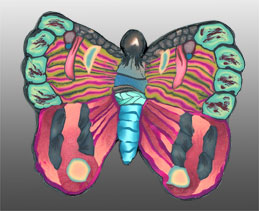 I was checking my clipart disks for butterflies to do using my mosaic technique and ran into the moth section and I realized that moths are pretty spectacular. The guy above is a moth, fantasy colors of course. I still have a butterfly on my table and there are some fabulous butterflies as well. I'm going to make a necklace out of this one.
You can learn this technique by signing up for my newsletter (in the upper right hand side of this page) and watching the free 20 minute video tutorial.
Stay tuned, because I'm going to be teaching a full day of this technique very soon. It's lots of fun and the applications are limitless.