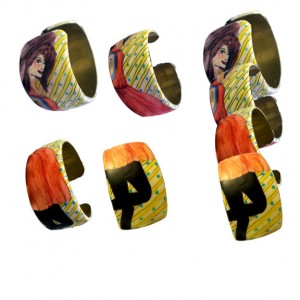 I decided to do a couple more girls on bracelets yesterday. This picture shows each side of one bracelet and on the right side of the picture, all of the side put together to show what it might look like if it were a flat drawing.
I just received an package in the mail containing a large set of markers and couldn't wait to try them out. In fact, I'll be doing more experimenting today.
I've always been the kind of person that has to have every color of……well…..whatever I'm interested in at the time. I own every color of embroidery floss from years ago, every color of premo, every color of crayon (just because I love the smell) and I'm sure I've thrown away more supplies because I bought every color and then didn't use them before they dried up.
But I'm not a clothes horse, I don't have a million pair of shoes, but I probably have a million different kinds of supplies. They make me happy, they make me feel like I could at anytime create something wonderful because I have everything I could ever need to create anything. Okay, that's not really true, I don't have ALL the supplies in the world, but I'm working on it.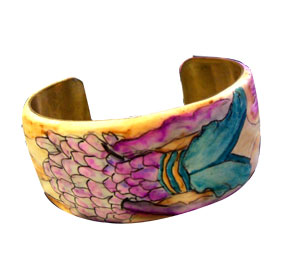 These bracelets are really fun to wear because from the front, when it's on your wrist, a person can't really tell what it is. It just looks like an interesting, colorful bracelet. But then they say something about it and you show them the whole drawing, they are amazed. It's pretty cool actually.
Then when you tell them it's polymer clay, pen and ink, they want to know more. Mostly they say they can't draw and could never do it. It's really not true, everyone can draw something even it it's just shapes and trust me shapes can be very interesting. But these girls are very basic line drawings.
Anyway, this is the face for the second bracelet. They will both be for sale in my Etsy Shop by the end of the day. Thanks for checking in.