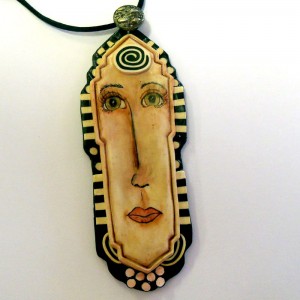 When I came home from Woman Creative – Art and Jewelry Design Center just outside Atlanta, I came loaded down with rubber stamp shapes from Barbara McGuire's collection. I started playing around with them and because I am so involved with my pen and ink technique I decided to marry the two elements. I, as always have created something I think if incredibly fun and a bit off beat, but I'm diggin' 'em.
I have tons of old jewelry and buttons and well just stuff (cool stuff mind you) that I've be gathering over the years and have decided to continue to use those bits and pieces to accent my work. I've added a cool button to the top of the face pendant above.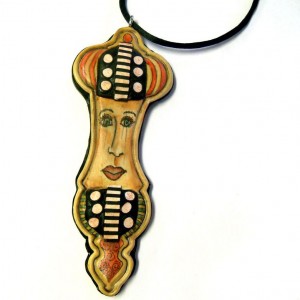 The pen technique is the one I demonstrate in my video for sale in my Etsy Shop and the shapes are rubber stamps from Barbara McGuire's collection. The ways you can use the pen and ink technique are endless. Use some of these ideas of mine or dream up some of your own. The sky is the limit and the only thing keeping you from floating away is you thinking you can't fly.
Okay, okay, you can't REALLY fly, but you can feel that way sometimes if you lose yourself in your creativity. Stop judging yourself and you will be more than surprised at what you can create. I'm talking to myself as much as to you, I produce things I'm proud of when I make them for the joy of it, not for the dollars I might gain.
Learning to let them go to someone else is the next big stumbling block for me, but I'm doing much better at that too. I can't wear, look at or hang all the things I make, so I find it much easier to let them go than I did in the beginning.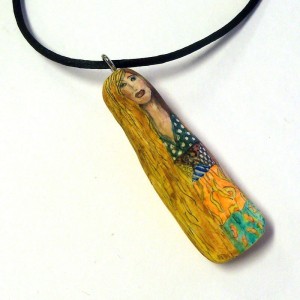 I've also been playing around with whole shapes. I like this girl and really wanted to keep her, but I'm putting her in my Etsy shop. I have ideas for oh so many more. Here I am again, too many ideas and not enough time. Oh well, there's always tomorrow. Maybe I'll see you then too.