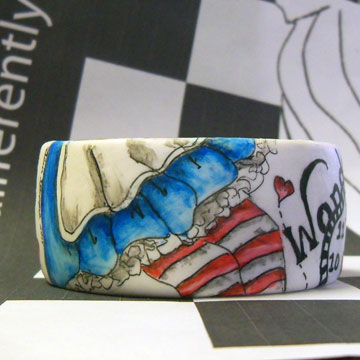 I had a clothing designer contact me last week about doing a bracelet for her runway show in April. She makes fun repurposed clothing, really cool stuff that's bright and colorful. She has an Alice in Wonderland theme on some of her clothes and we got to talking about very large buttons too.
So I made her the bracelet above, well actually I made two and she liked them both, but said she had something more colorful in mind.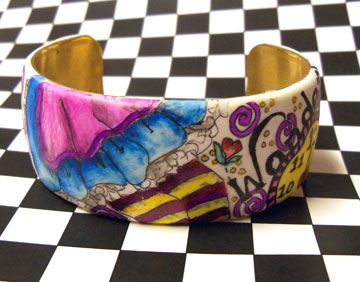 So I colored it again and added some colorful dots and flowers and things and she really liked it. Me too actually, it's hard to choose I like them both, but for her designs the colorful one works best.
Then I finished up several buttons for her to choose from and sent her these 3″ round ones for a hoodie jacket she's doing. She promises to send pictures.
These remind me of Tim Burton's Alice, so colorful and fun. Loved that movie.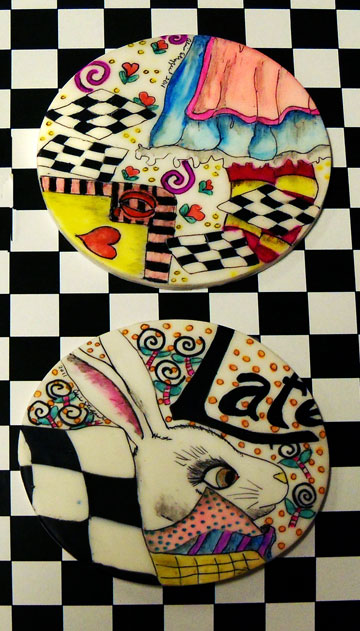 I took this picture before I drilled the holes. You can see her work in her Etsy Shop. It was great fun and I'm going to do more pen and ink on polymer really soon. I have some crazy ideas running around in my head…..kind of like the Mad Hatter. *g*.
These buttons and bracelet were done using the techniques in my newest video for sale – Pen and Ink on Polymer Clay. It's fun and easy to do any design you want to. You don't have to be able to draw pictures, you can begin with abstract graphic designs and really make some colorful pins or bracelets or maybe a great wall hanging. You can look to the upper left hand side of this page for a link to purchase it or click here.
Thanks to everyone that stops by and specially to those who take the time to comment, I know how time consuming it is sometimes.   Alice