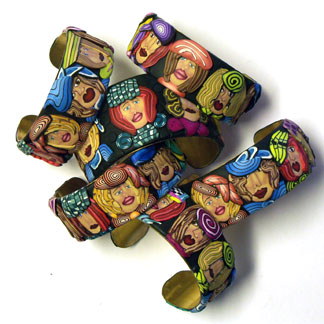 I sold the last of  my girlfriend galore bracelets at Fandango and needed to make more and here's the new gaggle of girlfriends.
I was honored to be asked to donated something to the International Polymer Clay Association retreat this year and I'm sending one of these cuffs. I only wish I could go this year. I would love to meet all the other wonderful clayers that are going to be there. Maybe next time.

I've also made the largest GG bracelet yet,  showing in the photo above are all sides of this  1  1/2″ wide cuff. It really looks great on a large girl like me. This bracelet is listed in myEtsy Shop.
It's hard for me to decide which size I like the best, I like them all I guess. Someday I have to save one for myself. Maybe it's one of these because I've used the last of at least one of my face canes and so these really represent my faces over the last few years.  Kind of a road map of my journey.
The next group of bracelets will be welcoming some new faces because I'll be making more this month. I can't wait to see the new personalities that show up. That's really how I feel about my face canes, each one kind of decides who they are going to be and sometimes I don't have alot of say in the matter. Kind of fun.