Okay, here's the last of my creative streak this week. Actually these paperweight rocker girls are the start. I had this idea to cover rocks with clay and my face cane slices, I made the black haired girl and smiled the whole time. (that's when I know I have an idea that at least I think is fun)
These are rocks out of my French Drain behind my porch. The blonde is about 3″ x 2″, black haired girl is 2″ 1/2″ x 2″ and the brunette is 2′ x 1 1/2″ . All perfect sizes for a funky addition to your desk as a paper weight or just sitting around on a shelf or counter. They make me laugh.
It was hard to make the clay stick to the rock. (the next girls I made I covered with craft glue and let dry, then it was fine, I was just too much in a hurry for the first girl)
Because the clay wasn't sticking, it made me think of using my old clay as the core, so I made a girl with clay instead of the rock. Half way through I had the idea to make this business card holder. So I made the slit for cards to fit and there you go.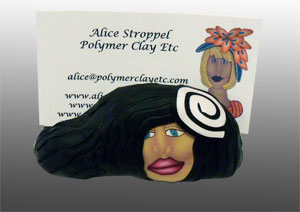 I had a plastic business card holder on my desk and I had this idea to make something that used less clay. After all, not everyone has tons of scrap clay.
So there you have a peek inside my strange mind. Not that anyone really wanted to look…:) Thanks for stopping in today.
P.S. All of these would make great projects for kids.