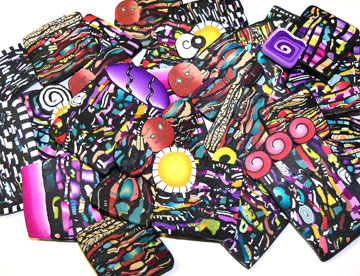 Here's a pile of colorful fun Stroppel Pins I've made for the pin exchange at Orlando Area Polymer Clay Guild's Fandango. I'm about half way there, even though we don't have to make pins to exchange with everyone, I don't want to miss any very cool pins by running out of mine.
I've been having a great time with these and might just keep these as something I do all the time. There are so many possibilities with each little canvas.
Now back to making some face canes for my class at Creative Journey Studios on the 21st and 22nd of this month.
Both places still have room for more students, so pick up the phone and reserve your space.