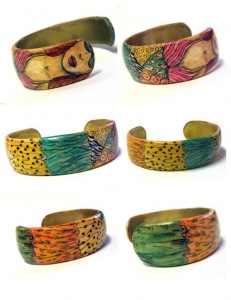 It's been a busy month! Yesterday I sent a large package to Ellen Prophater at Woman Creative in Buford, Georgia. (Scroll down to the bottom of this post and watch this short video I made while I was there earlier this month. ) Barbara McGuire is  Education Director and Founder and Ellen is Exhibit Director and Gallery Manager. It's a beautiful space and a must see if you are anywhere near by.
The Pen and ink bracelet above was one of the items that I sent for my display. ( It's a composite picture of one bracelet, showing all sides) I created it using the techniques shown in the Pen and Ink on Polymer Clay video that I have for sale. You can purchase it by clicking on the image in the upper left hand corner of this page, or visiting my Esty shop here.
I love making canes and working with the colored clay, but I am thrilled to be able to combine both the drawing and the clay together. Exactly what one of my customers just emailed me about this tutorial.
I started out creating items with black and white with a touch of red, and still love those pieces, but have started to add color to the whole design and really am enjoying the color very much.
All of my items will be for sale in the Woman Creative Gallery along with many other well known artist's work. Of course this is the place to see Barbara's work, both current and some of her earlier pieces. Plus there are all kinds of classes you can take, click on this link to Woman Creative website, then on calendar on the right hand side of the page.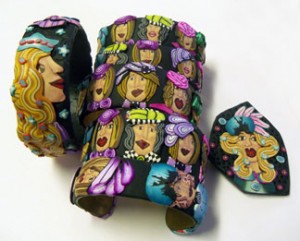 I sent all of these girlfriends to Ellen Plus other fun things. Can't wait to see picture of how she displays them. Ellen has such a wonderful eye for display, she knows just what to  do.
I also sent one of the large Girlfriends Galore Bracelets to Charline Ahlgreen for the Orlando Area Polymer Clay Guild's annual Fandango auction. Plus two of my tutorials. So if you're there and bidding, bid large..*g*
Don't worry, I still have some for sale in my Etsy Shop. I am getting low on faces and need to spend a few days making more, so you might not see all of these same faces next time you look.
I've got to get busy, so see you later.