I just have to tell you …. I love teaching …. and …….. I love teaching new caners. The smiles and looks on the faces of the ladies in my class this weekend at Beads F.O.B. in Sarasota just put me in a good mood for the next month at least.
Thanks to Karen at Beads F. O. B. for keeping all the paperwork straight and Marty for all her work and for letting me come join the fun. Looks like I'll be going back to teach again soon so check back to see when you might be able to come join us.
We made so many canes and turned some of them into beads and some into pendants, I'm only showing the pendants here.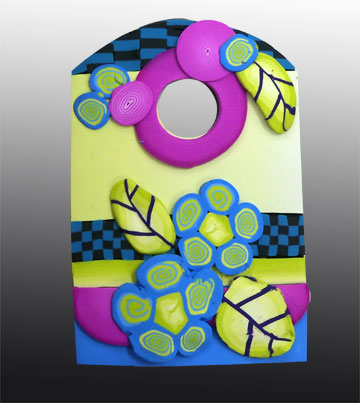 Joan was having a great time and already had plans for a volunteer project and began working on it before class was over.
I heard this high little yell from Marlene and wondered what was wrong. It was all excitement  at her table, she had just successfully reduced that little leaf cane and was tickled with herself. It reminded me of the first time I reduced a cane and all the possibilities that were running through my head.
Marty made earrings and enjoyed the whole creative process. She is one fun polymer clayer.
I looked up one time to see the biggest grin on Lois' face. She had just made several successful canes in a great combo of colors and I could see the wheels turning behind those smiling bright eyes.
Christine said she couldn't go to sleep the first night and couldn't wait to get back to work on her canes on Sunday. Her enthusiasm shows in her work.
Cathe's work is big and bold. Her color combinations are bright and work so well together.
I'm so sorry that Marina had to leave early and I didn't get a picture of her work.
(two days later, update) Marina sent me a picture of her work, I'm so happy to be able to include it. I just didn't feel right for her pieces to be missing. Thanks Marina!
I love how everyone created their own colors and Marina loves to do mini piece. I can't wait to see what she comes up with.
I also didn't take a class picture.  We ran over time, we were having so much fun, and people started to leave before I remembered the group photo. Thanks to all my student, I really appreciate how easy you made it to show you what I know, it was great fun.