I still have so much to show everyone from my trip to Orlando Clay Fandango 2010. All the pieces I created in my classes with Christi Friesen,  Sarah Shriver,  Julie Picarello, plus what I learned from the demos with Barbara McGuire, Maureen Carlson.
I've been trying to clean out my polymer suitcase and put things back where they belong. Geez, don't know if that will ever happen.
I got home on Monday after Fandango and fell into bed. I didn't unpack the car, barely said hello to my husband and fell right to sleep. The phone rang and it was Barbara McGuire! She was giving a private lesson with two ladies and they graciously said I could join them. How great was that?
So I didn't have to unpack much, washed some clothes and hit the road the next morning. Tired but very excited to get to spend more time with such a creative polymer clay artist.
I knew I would have fun, but who knew that Lisa Dalziel, whose house we totally trashed with clay "stuff" for two days and three nights and Pat Livesay her partner in clay crime, would turn out to be two of the coolest, most fun to be around, classmates I could have asked for. We had a blast! Thank you both so much!!!
After a day of claying we all had our eyes done (boy I really could use my eyes done) and were all very pleased with ourselves. Not only is Barbara fun to be around and a founding member of the polymer clay community in America, she is an incredibly talented artist and an excellent instructor. She truly knows polymer clay. Taking a class with her is like learning from your best friend, the one that knows more than you do.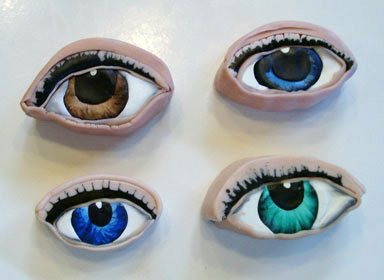 I think we all did a fabulous job with our eyes. Each one different but very cool. Here's my finished face.
This face is totally different than my  other faces and I'm hoping to incorporated some of what I learned with Barbara into some of my faces. That's the way we move on and grow. Thanks Barbara for sharing with me.
I'll be having more of Barbara to share with you in up coming posts. I had time to video her and some of her new products. But for today, check out Barbara's SHOW & WORKSHOP SCHEDULE  2010 to find out where you can catch up with her.