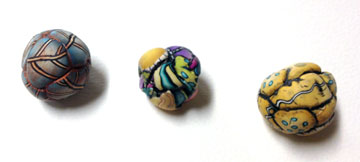 Just a quick post about my experiment. I'm kind of liking the one in the middle and maybe the one on the right. The one on the left is a going to the "yeah right" jar.
They look different in person, they are so dimensional and you can't see it here. They are truly some of the funkiest beads I've ever made.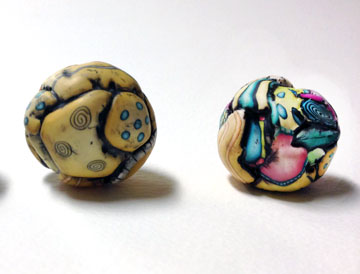 Still working on them and other applications for the technique. Not giving up yet.
Now on to what I've really been doing…twice a day ……everyday for the last two weeks (and it will continue for another two).
MANGOS…..lots and lots of mangos. I know they have nothing to do with polymer clay, maybe this could be the "etc." part. They are keeping me for my clay, so they do play a role, kind of, sort of.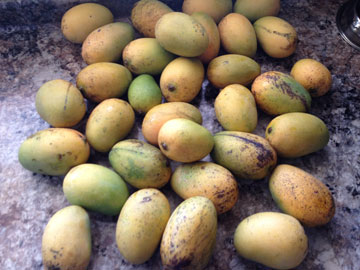 This is just from this morning. I'll have this many or more this afternoon. I have to be quick or the squirrels beat me to them and they pick the best ones to take only a bite or two.
I'm pealing, dicing, and freezing bag after bag. I put a perfect size of one cup in every bag. After about the 300th bag I start to lose my enthusiasm for it all. But I soldier on knowing that in December I'll be soooooo happy to open the freezer and see all those bags of mangos.
Plus, the margaritas and smoothies you can make with these frozen mangos are to die for.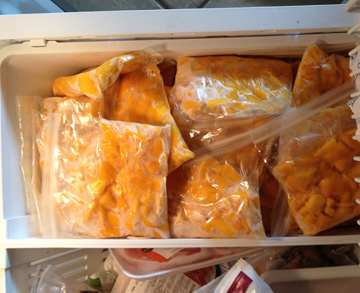 This freezer is full, I have to move these downstairs……….see you guys later.