I've been busy this week making slices to exchange at a retreat I'm going to in September. Very excited about it and I'll tell you more about it another day.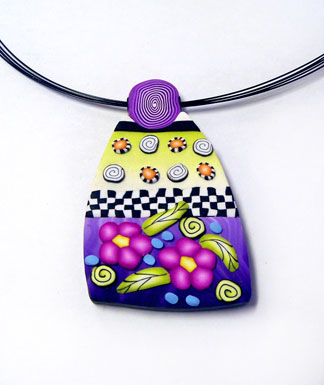 I've also been making a zillion, yes that many, skinner blends for a fun new workshop I'll be teaching in Sarasota, FL at Beads, F.O.B., Inc. on Saturday, August 20th – 10am – 4pm and Sunday the 21st from 10am – 1pm.
Marty Montague is the owner of Beads, F.O.B., Inc and she and Karen Johnson is manager, designer and teacher at the shop.  They both attended my pen and ink class last month and we all had such a good time Marty asked me to teach a cane/bead class for her. I'm delighted.
It's a two day workshop for people new to polymer clay, don't worry you won't have to buy lots of equipment, I have pasta machines to share, but you will be investing in lots of clay. The up side of that is you will be "stocking" your cane pantry with enough colors, blends and canes to make hundreds of beads or pendant with the techniques I'll show you.
It's also a workshop for those who have been playing with clay for awhile but have just never tried caning and are ready to take the plunge.
I'll be showing you how I make reasonable sized to small canes to use all kinds of fun projects. I never make giant canes because I don't like to have lots of one cane, I'd rather use my clay stock to make hundreds of small interesting canes. It makes it easier on your pocketbook if your just starting out.
I'll spend some time with skinner blends, I've learned a few important things over the years that I'll share. Plus we'll be using the skinner blends to make many different canes and beads.
So here's what you'll be learning
Create a Skinner blend
Make these basic canes: stripe, checker board, jelly roll, bulls eye,
flowers and some fun little accent canes.
Use tons of  tips gleaned from my years of practice. If  there is an
easier way, I'm going to do my best to find it.
Learn several ways to make beads.
Finish a simple yet striking pendant.
This strand of beads are just a sample of the beads you'll be able to make from the canes we produce in this workshop.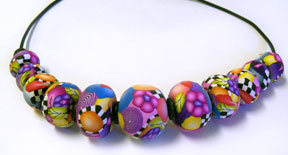 I'm still making samples for this class and will be posting them over the next couple of week. To find out more about this class download my pdf, to register call Karen or Marty at 941-921-0871
I'm not sure if their August newsletter is out yet, but it will be shortly. You can download it from the front page of Beads, F.O.B.