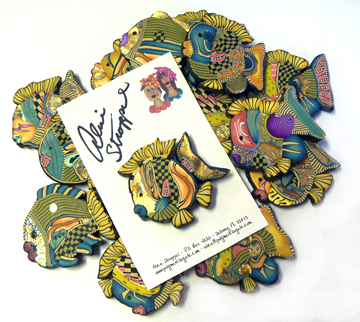 For the last few weeks I've been working on these fish slides for an exchange I will be taking part in. They really have been so much fun and each one is different than the next so I can't say I was the least bit bored by the number. I still have more to go and hope to finish up in the next few days.
Even though you can't see it, there is metal leaf on each one of these fish. I've recently begun to use the metal leaf with my cane mapping and have some other ideas that don't involve fish, so stay tuned. By the way you can learn how to map out the use of your old canes by signing up for my newsletter if you haven't already. Just fill in your name and email address in the spaces on the upper right hand side of this page. I send out a newsletter about once a month and a class up date from time to time.
Okay so I'm not telling the exact true about being bored with these fish. I can say that bored is probably not the right word anyway, I think I get tired of doing the same type of item for a long period of time and have to break it up with other projects or activities along the way. But I'm always excited to come back and make more because they make me smile. Okay so they don't make me laugh out loud like my girls do, but they do make me smile a lot.
I usually sit down and make five in a row, get them baked and the holes drilled, then I do something else for awhile. Today I am playing around with how to package them. Most of the time in an exchange just including your card  is enough, but I wanted to do mine a bit different this time.
I've used cards like this before to display my pins and I think I just might use them this time as well. These are smaller than the ones I've used before and I like them better for these smaller pieces.
I have soft wire that I've run through the slide and out the back of the card, twisting it together to hold the fish in place. I use a very small hole punch to make the holes so everything looks nice and neat.
The next thing I'm going to play with today is the design of the card. I think it might need some updating, I just signed my name on the top but I don't think I like that. You never know until you try…words I live by.