If you're looking for my OWOH giveaway it's here
____________________________________________________________________________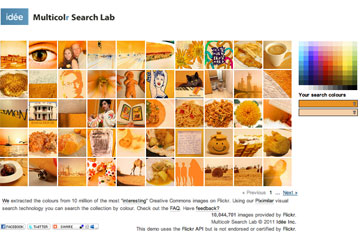 Patsy Monk shared this with the Florida Gulfcoast Polymer Clay Guild through their online group. I was blown away by it.
It's called the Multicor Search Lab and it will display photos from flickr that match the colors you choose. what a wonderful way to create a color palette for your next project.
I thought with all the OWOH bloggers coming through, it would be a great thing to share will all the artists. But mainly  I was thinking about all of us working with clay and trying to figure out color combinations.
I for one don't get many magazines these days and the ones I do get I don't want to cut up, this is a great alternative.
The orange above was just two shades of orange. The one below is three colors, but you can add up to 10. Really a great find and a super tool. Thanks Patsy.
Here's the Link Idée Multicolr Lab