If you're looking for my OWOH giveaway it's here
____________________________________________________________________________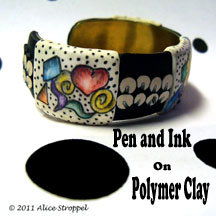 My newest video tutorial Pen and Ink on Polymer Clay is now available for sale in my Etsy shop. This video will show you what supplies you'll need to create pen and ink drawings on bracelets, pin, pendants or whatever else your imagination can come up with. Follow along with me as I share my techniques and tips about working with pen and ink on polymer.
If you aren't familiar with my videos you might want to take a minute and take a look at some of the free ones that are here on this blog.
Look at the top of this page and you'll see a tab that says, video tutorials. Or you can get there from here. A good one to watch is How to Attach Your Polymer Clay Artwork to a Metal Bracelet Blank.
Thanks for stopping by and if you have a blog be sure to click on the One World One Heart link at the beginning of this post and leave a comment on that post to win a crazy girl bracelet.
Alice