If you're looking for my OWOH giveaway it's here
____________________________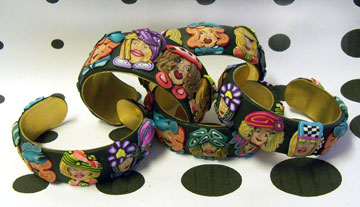 I finished these Girlfriend Galore bracelets yesterday and popped them in to cure last night. Spent the morning taking pictures and cropping etc., loading two of them on my Etsy site and flickr, and now here. Yikes. It's 2pm and I'd rather be claying……
But that's the way it is and I guess I just need to get over it. But I am glad to be using backgrounds instead of cutting each item out in Photoshop. My printer has gotten a bit sad and I've just ordered a new laser printer. I've wanted one for years and could never justify the expense when I had a perfectly good inkjet sitting right here.
But to tell you the truth, this "free" printer really costs more to operate because of the ink. Anyway, I'm waiting for it now and I can't wait to print all those background with the laser.
Anyway, back to the "girlfriends". I've listed two of these bracelets in my Etsy shop. The wider one below……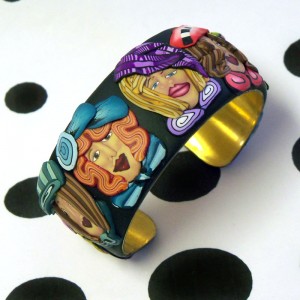 and this smaller one…..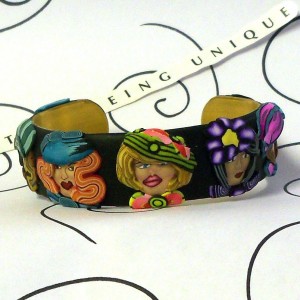 I made one of these to go to the auction at Orlando Area Polymer Clay Guild's Fandango coming up in May. It's a super fun event and if your thinking about going…..stop thinking….just go, you'll love it. Beautiful place, beautiful weather, beautiful people. Check it out on their website here.
What are you working on? Thanks for stopping by today.