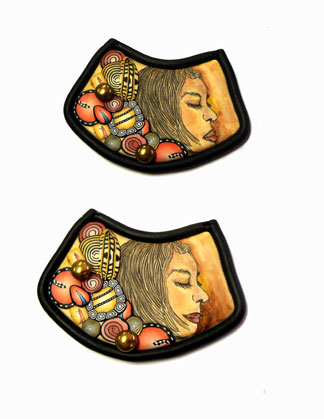 After I posted my girl yesterday, I saw what I couldn't see while I was working on her. Her jaw was way wrong. I had corrected it a bit while working on her, but not enough. It's funny how you don't really see something until you back away from it. In this case taking the photo and posting it, then looking at it later online made me see what I could before.
I think I was excited by how the coloring was coming out and the use of the canes in combo with the drawing and didn't really want to look at the face.
So last night I operated and she looks a bit better. Thanks for sticking we me through all this experimentation. For all those out there that say you can't  draw…..sure you can, you just have to look harder at what you're putting on the canvas. We all know when something looks wrongand we can fix it.
Now to fix her nose……:)
P.S. I first was introduced to some of the colored pens I use by Kathleen Dustin. She is the master and a wonderful instructor. If you should ever have an opportunity to take a class with her, you should run, not walk to do it.