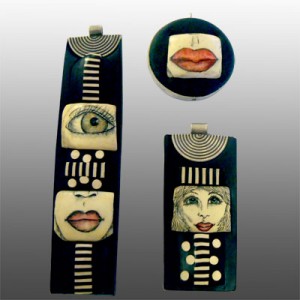 I can't stand to throw anything away, even when things go a bit wrong. I was working on two pen and ink bracelets (using the techniques shown in my video tutorial for sale in my Etsy shop) for Woman Creative – Art and Jewelry Design Center when somehow my oven when crazy and I had a couple of scorched bracelets on my hands. Not totally black, but not fit for sending to Ellen at the Center.
But today as I was taking them off the blanks, I just couldn't throw them away. So I began to play around with them and I cut them apart and repositioned them on other pieces of clay and I began to really like the antique look of the pieces.
What didn't work as one of my usual bracelets really did work in a different setting. In the beginning I thought I might want to add some more antiquing to them, but I really like them just the way they are.
I'm thrilled to have saved them and I think I might be on to something else. But that's the way it is, too many things I want to do and too little time.
I guess what I really wanted to share with you was that sometimes what you think as failure might just turn into success, never give up!