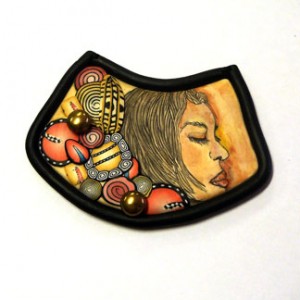 I just have been having a fabulous time yesterday and today. Had a dental appointment but there was a terrible storm and I have to drive over an hour to get there, so I didn't go.
That meant I got to stay and continue experimenting with different shapes to hold my pen and ink and polymer clay.
This was great fun, but it's still a WIP. Needs beads and a chain. The pen technique is the one I demonstrate in my video for sale in my Etsy Shop and the shape was a rubber stamp from Barbara McGuire's collection.
I'll post it when I have it finished. I have several more pieces that I really am excited about and I'll be sharing those with you too.
On this piece I drew the woman and then layered slices of canes off to one side. I like the way it came out.