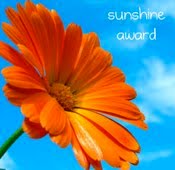 Thank you  to one of my favorite bloggers and a talented polymer clayer Betty Jo Hendershott from Knightwork: Playing with Clay. She included me in her list of 12 recipients. I'm honored.
But that's not all, I was chosen again by Col's Creations. Thank you Col, I am delighted.
Now that works out to 24 blogs for me to list. WoW! It's almost my whole links page. So I'm listing them all, including Bett Jo's and Col's sites.
Here are the rules for accepting this award.
Put the logo on your blog or within your post.
Pass the award onto 12 bloggers.
Link the nominees within your post.
Let the nominees know they have received this award by commenting on their blog.
Share the love and link to the person from whom you received this award.
Polymer Clay Sites
Polymer Clay Chameleon – PCAOE Artists
The Ornamentalist – Michelle Ross
Tina Holden's Polymer Clay Bytes
Exploring the Art of Polymer Clay
Tooaquarius – Elaine Robitaille
Craft Sites
Totally Tutorials – Free Tutorials