I was decorating my tree today, I know I'm late getting started, but I came across this ornament I made and had to share it with you. I didn't date this one, I always date things, so I'm unhappy that I didn't.
Years ago I was in a cane swap and I was very new to polymer clay. I can't even remember what canes I sent, I'm sure they weren't anywhere near as cool as the ones I recieved. But I do remember is was with Nora Jean Gatine's group. Thanks Nora Jean, your animal skin canes that came with the rest were great.
I received some other wonderful, inspirational canes, one of which was the guy above. It was just the face, no hair no hat. but the teeth and the beard just sent me over the edge. I thought, wow, I can't believe you can do that with clay. I think the artist's name is Mel, I can't remember which Mel, I know there are a couple in Nora Jean's Yahoo group CITY-o-Clay. So if you're out there Mel, and recognized this guy, please leave a comment. If it wasn't Mel that made this crazy cane, well, I'd love to hear from you to set the record straight.
I know he looks like a "bad" santa, but I just think of him as needing some teeth work. Each time I take him out to hang him up, I laugh and remember the fun I had because of this group. Thanks to all of you from back then.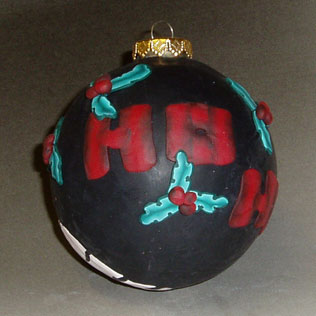 The back side says, "HO HO HO"