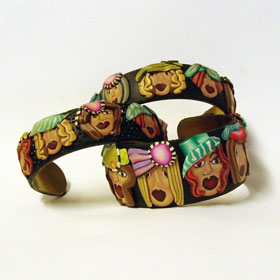 Tomorrow I'm taking stock to The Creative Native Gallery in Tampa. I sell quite a few of my bracelet there, so I'm running low. Always a fun trip, plus my friend Alice is going with me to put some of her work in the gallery too.
The large "lots of girls" bracelet above is going to my Etsy shop. So go take a look at what else I have for sale there.
If you haven't entered your comment for the One World One Heart giveaway, Scroll down and enter your blog address, or click here.