I know when  I have something that is about to happen that is going to make me say, "Yes!!!" , I get the feeling that I am creating but not moving forward. I also know that it is not the time to give up.
So I have been playing around with everything, anything and knowing that something will make me happy. And guess what? I'm happy!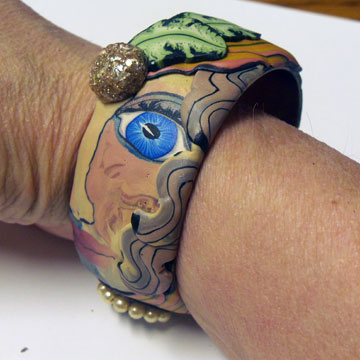 I love these new bracelets. I love the craziness of them. I love them, they make me laugh. You see, While I was playing around with "the" face cane, I didn't want to do another one because I really didn't know what I would make out of it. The answer was right there in front of me. I was thinking I wanted to do something different, but what could I do that really made sense with the face canes. I like the idea of the mixed media, and I'm going to pursue that avenue too, but cuff bracelets, here I am again. Okay, maybe I'm just slow on the uptake sometimes.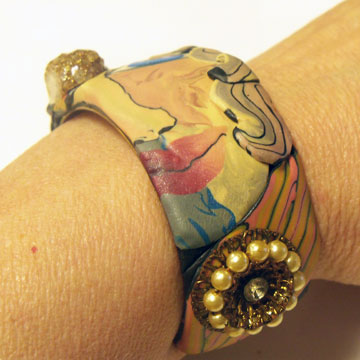 So here is the first of my crazy new girls on cuff bracelets. I'll still do my old girls, after all I have plenty. But I'm going to add these girls as well. I have tons of old jewelry to recycle and can't wait to use some of it.
These bracelets are so Me! I can't wait to wear this one to a meeting I have tomorrow. They're so hard to show in a photo. You really have to see them up close and on someone's wrist. Thus the "wonderful" picture of my wrist that should really not be shown "up close", but the best way to show how much fun these are going to be to wear.