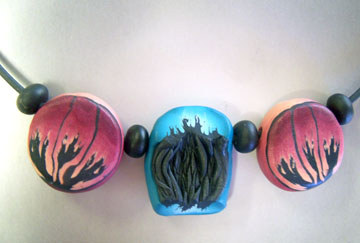 I sometimes wonder how I ever get through anything. I decided to stop thinking of things to do, filing them away in my head and never ever bringing them back out again, and do something about the ideas right then.
Do you do this? I know you do! We all have those minutes when we are right in the middle of creating something we think is wonderful (or not) and another wonderful (and once again, at least we think it's wonderful) idea jumps into our brain. We don't usually stop what we're working on to do the new thing. At least that's what I used to do.
The other day I decide to just follow where I am being led at any given time. I have spent most of my adult life doing what I thought would "sell", or what others might like. I have given some of that up for doing exactly what I want to do and exactly when the idea comes along.
I was making new canes for my new face cane bracelet series and some of the canes and some of the process looked like great necklace material. So I took the fork in the road and ended up with the necklace above. I'd ordered some buna cord awhile back and that's what I used to finish it off. I also used some silver finding for the clasp.
I'm on my way back to the bracelets now, see I wasn't gone long and I've made something I really like and will wear. I just wanted to share this with you. I had fun, and that's my job!