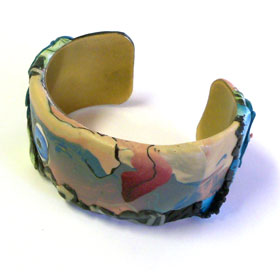 I didn't get the video uploaded, but I still have hopes that my connectivity problems will be solved soon. I'm happy to be able to upload a couple of pictures of another finished bracelet.
Actually, I've finished all 13 bracelet made from this face cane. I like this one because of the blue flower. It really stands out when you wear it. I always give my bracelets a test wear, I wore this one yesterday to the bank, grocery store and a neighborhood party.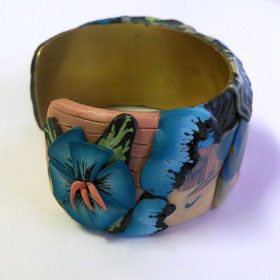 The woman at the bank noticed it right away and told me how much she liked it. A woman in the grocery store made a comment and several people at the party couldn't get over the fact that it was all clay and no paint. We all run into that I know.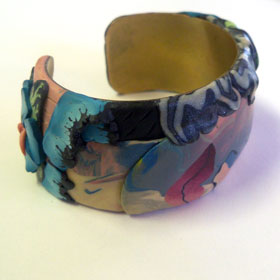 I'll be listing several more in my Etsy shop this afternoon. Next week, it's on to another face cane like this one only better. (saying that with my fingers crossed) I learn from each try and hopefully get better as I go.