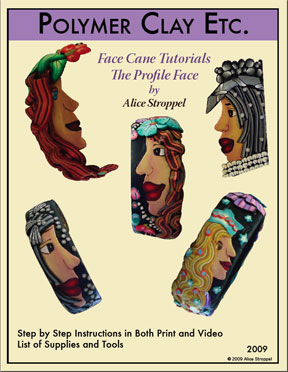 The Orlando Area Polymer Clay Guild is sponsoring my Profile Face Cane Class on September 25th, 2010. As a special bonus for the Orlando Guild, I'm including the links to my  Profile Face Cane Tutorial. That's a step by step pdf with colored instructions and a 40 minute video. There is a maximum of 20 students.  Please contact OAPCG for more information.
If you know the Orlando group, you know we are going to have fun. So bring your sense of humor and your pasta machine because these women will make you laugh and I'll show you how to create some real characters.
Here's a new bracelet finished yesterday, she's fun and colorful and looking for a home.  A character for sure, I'm posting this bracelet on my Etsy Site.
Other samples of my profile face cane.