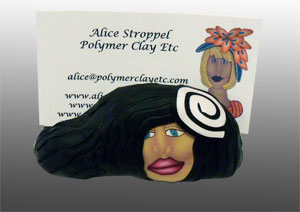 I have a couple of things to talk about today. The first thing is this too funny for words business card holder for your desk. I love this girl, she makes me smile, I loved making her and now that she has joined the other memorable items on my desk, I love looking at her. It was one of those moments when I was making something else and that led me to this holder and then on to another holder design.
I'll show you all of these things tomorrow. I have hurry up and get this posted because I have to finish preparing to lead my book club discussion tomorrow. I'm looking forward to it, but I have to make sure I'm ready. Plus the other pieces are in the oven and I can't take pictures until they cool down.
I was very excited to create this card holder. It's solid clay, probably about 3 oz. I have 20 or 30 packages of Sculpey III that I will never use and have wondered what I was going to do with them. Now I know I'm going to use some of it for the base for some more of these card holders. I covered the base with black clay and then made the indentation to hold the cards, then add the face. Covered the edges of her face with more black "hair", added her simple hat and she was ready for the oven. The whole time smiling……I love my "job".
The second thing today was..my pasta motor died. I should have known it would happen sooner or later but I was just thinking that I haven't ever had trouble with MY motor. There was a thread on Polymer Clay People yahoo digest about motors and people were talking about motors stopping on them. I thought HA, not mine. Then yesterday…it happened.
So today I had to order another one. I really wanted to buy the Dream Machine from Polymer Clay Express, but as I already have 9 pasta machines, I really couldn't justify another.
Now I have to wait until my new motor gets here. I know, I can crank the pm by hand, but come on, after all these years, I'm just too spoiled.
Okay, I know I won't be able to wait 4 or 5 day so I guess I'll just be cranky. See you tomorrow.