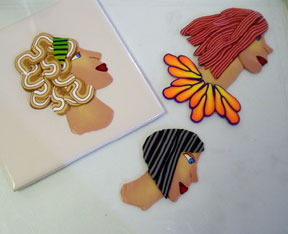 Yesterday I made a face cane in profile. I've made canes like these before and made several vases, postcards, canisters, and oh I don't know what else. I either gave them away, donated them or sold them. And I didn't take pictures of them. I regret not taking picture of things in the beginning. If only just to see how far I've come.
Anyway, I'm play around with the profile here. Same cane different hair styles. I have some other ideas that I'm going to work on today.
If you haven't already, be sure and check out the Fish Mosaic contest in the last post.