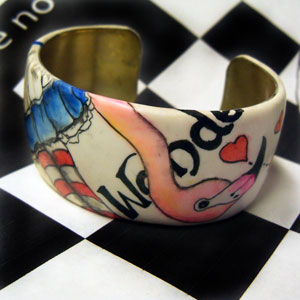 I just keep coming back to Alice and the poor flamingo from time to time over the years and here I am again. I really, really enjoyed this one. Fun, fun.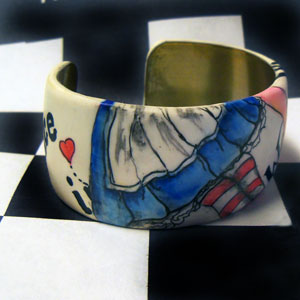 I loved the colors and drawing the skirt. My sister drew herself a set of paper dolls and clothes when I was just a little girl. They had lots of folds and shading and I just loved them. I thought they were the prettiest things in the world.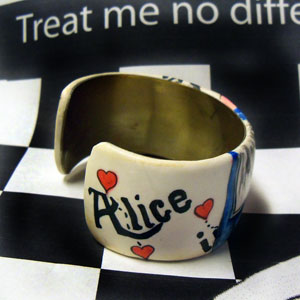 I always wanted to draw like her and of course my Dad. I  didn't really ever try to draw until a couple of years ago. And because I didn't get instant wonderful results, I would give up. Then I'd come back again and again until I feel like I would wear these, so maybe someone else will like them too.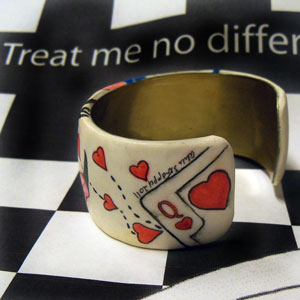 I want to thank all those customers that have purchased one of my bracelets from my Etsy Shop, or told me you liked them, either here or on Facebook or Flickr. It encourages me to make more, not to mention makes me smile from ear to ear.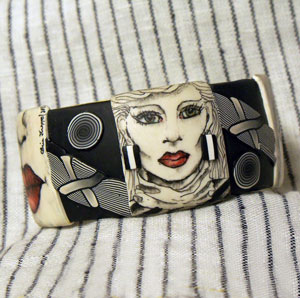 This is another of my "face bracelets" I had lots of fun with this one too. Okay what don't I have fun doing???? Not much if it is with clay or creating of any kind.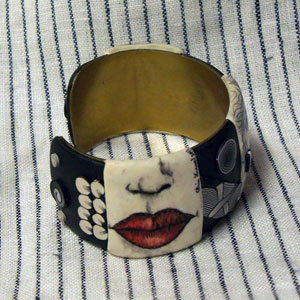 Gotta have the lips, lol……………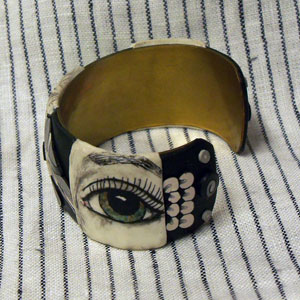 And the colorful eye………Both of these bracelets are for sale in my Etsy Shop, thanks for taking the time to stop by.