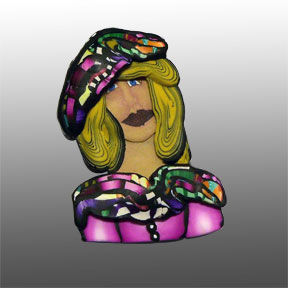 I was working on several things this weekend, more girlfriend slides in my Etsy shop and several of my new bracelets.
Two of the new bracelets were for the International Polymer Clay Associations competition Progress and Possibilities. I have never entered any competitions with my clay work except in a monthly Viola polymeristas once or twice. I hadn't planned on sending anything to this competition until my friend Suzanne Ivester asked me why not. I told her , "I don't know, I don't know what I would send?  She kind of wagged her email finger at me and made me think it was time to see if I could come up with a design.
I've been working hard to make my work as professional as I can, as smoothly finished and well made as possible. Now it's time to take the next step and start pushing those other buttons like others approval, how will it measure up, and just plain ol' fright.
Yep fright! You might think that is totally crazy coming from someone who blogs all the time, exposes my work to thousands of readers everyday, makes videos of my techniques and shows myself in these videos from time to time!
But it's true, asking someone else to judge your work is totally different than just sharing it with those who want to take a look or actually buy something you've made.
But I don't think I'm alone in feeling this way, so I'm going to pass on my challenge from Suzanne to you, make something and enter it in Progress and Possibilities 2011.  There are three categories – Art Jewelry, Functional Objects and Sculptural Objects with three levels of expertise – Beginners, Intermediate and Professional. So you see, even if you are a beginner there is a place for you. If you are Intermediate like me, then I double dog dare you. If you're professional…..well enough said.
I double dog dare you!
In the meantime, I'm  still sending girlfriends to Etsy. I'll show pictures of my new bracelets another day.