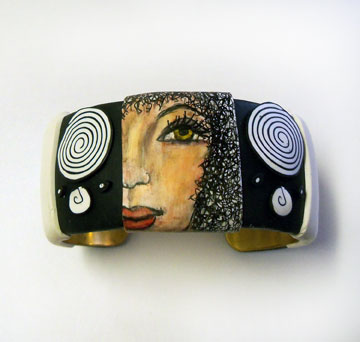 I'll be hopping a plane in a few weeks to fly to Atlanta and get to spend some time with friends at Creative Journey Studios and a couple of days with a good friend from forever in another little Georgia town
First stop is in Buford, Ga and two classes at Creative Journey Studios. I can't wait to get back there to see how the gallery has grown. When I was there last year it was just beginning and not everyone had sent their work for display and sale, mine wasn't even there. So I'm excited to have the chance to spend some time there with Ellen Prophater, Sue Sutherland, and Patricia DiBona.
I'll be teaching Pen and Ink on Polymer Clay and my Profile Face Cane. Grab a friend and come take one class or both, we're going to have a great time.
If you need to jump into spring, you might want to seriously consider a trip to this charming little Georgia town. If you want to be inspired by polymer clay artists' work all in one place, Creative Journey Studios is the ticket. Just take a look at the list of artists that have work that you will see up close and personal and possibly own. What a treat it's going to be.
Judy Belcher, Jana Roberts Benzon, Leslie Blackford, Carol Blackburn, Kim Cavender, Louise Fischer Cozzi, Heather Cobb, Patricia DiBona, Ann Dillon, Lisa Dunn, Julie Eakes, Christi Friesen, Natalia Garcia de Leaniz, Sue Gentry, Linda Gilcher, Lindly Haunani, Ginny Henley, Stacy Hogue, Lou A. Huppke, Susan Hyde, Debbie Jackson. Jeanette Kandray, Kim Korringa, Judy Kuskin, Sharon Kyser, Loretta Lam, Ron Lehocky, Peggy Martin, Sandra McCaw, Barbara McGuire, Laurie Mika, Ann & Karen Mitchelll, Harvey Moriarty, Mari O'Dell, Mary Pratt, Ellen Prophater, Laurie Prophater, LaTrecia Raffety, Ponsawan Sila, Jan Stephens, Meta Strick, Debra Svitil, Alice Stroppel, Bettina Welker, Melanie West, Lori Wilkes, Elise Winters, Karen Woods
Amazing isn't it?
Then….I'm off to cental Florida for Orlando Area Polymer Clay Guild's annual Fandango. I'll be demonstrating and just hanging out to talk with everyone and show some of my methods.
Today, I'm working on some bracelets like the one above, because I need a donation for the fabulous auction they have each year. Speaking of seeing some of your favorite artists' from around the country and the world. President Charlene and others from OAPCG have a long list of donated work that attendees can truely buy sometimes for a song. Okay maybe you have to pay, but it's tons of fun and just getting to see the work is a treat.
Take a look at last year's auction bounty. I think there is still time to register, but hurry!
I hope to see you somewhere, sometime.