syndee holt
Terrific Transfers
Monday April 27, 2015 
 5:30pm – 9:30PM
Mokume Gane
Tuesday April 28, 2015 
 5:30pm – 9:30PM
download applications here
 I'm very happy to tell you that syndee holt will be here for two evening classes in April.
When I was busy with other careers but wishing I was polymer claying full-time, I would watch craft television shows that featured  polymer clay artists and read whatever I could about polymer clay. I came to know (even though they didn't have a clue who I was) Barbara McGuire, Maureen Carlson, Donna Kato, Marie Segal and syndee holt pretty well.  I remember many articles by syndee and I admired her inventiveness and imagination.
I'm delighted to say I've met and become friends with Barbara and Maureen and Marie, such talented and generous people. A couple of years ago I was happy to meet syndee at Orlando Fandango retreat and then again at Sandy Camp in California. This time I was lucky to spend more time with syndee and am pleased that she has added me to her list of friends. Isn't the polymer clay community fabulous?
syndee will once again be attending fandango in May, but I've asked her to come visit me before she heads to Fandango. Happily she said yes and as a bonus she is going to teach two evening classes at Studio 215.  

Terrific Transfers Monday April 27, 2015 5:30pm – 9:30pm                   download application  Terrific Transfers
syndee was recently featured on Polymer Clay Daily with her transfer portrait of her son. I just love this.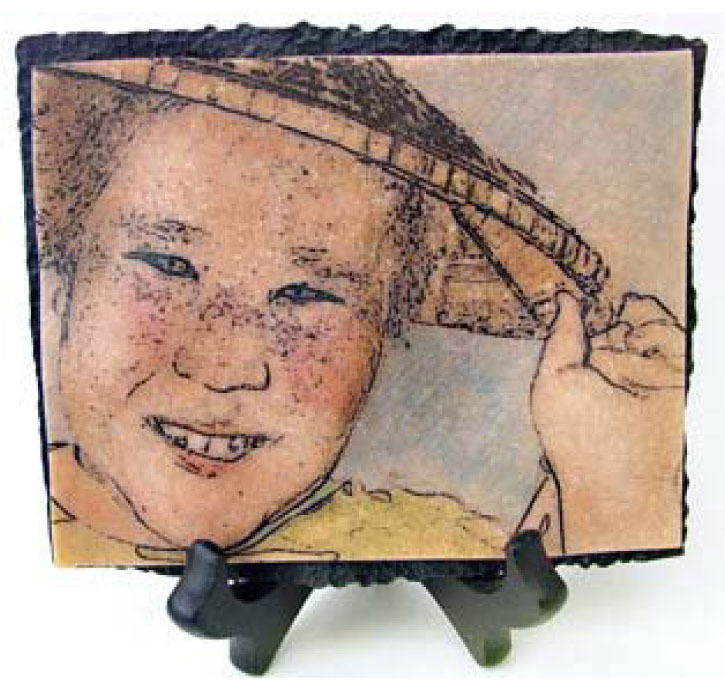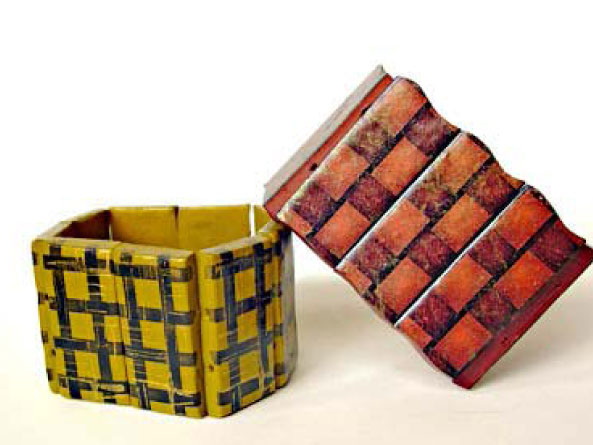 syndee says these bracelets are easily the most commented pieces of jewelry that she's ever worn. I can see why, they are made with laser transfers onto the sheet of clay. They're quick, tons of fun and a great introduction to transfers.
 Everything you need will be provided. Clay, transfers, tools, etc. You can bring their own transfers as well, as long as they are laser prints (and they have to be reversed left to right so that they transfer correctly). syndee will be available via email and text to help students with their transfers and would be delighted to help you "clean up" the transfers in Photoshop.
So what else can you do with transfers? How about transferring Dover clip art? Your kids' art? Your black and white photos? Your own photo line drawings?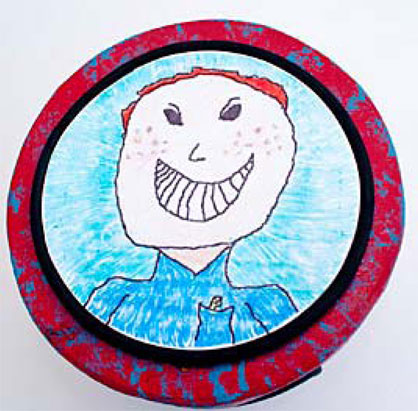 Mokume Gane Tuesday April 28, 2015  5:30pm – 9:30PM              download application Mokume Gane
Mokume Gane really has no limits – there are so many different techniques for this style and then so many color combinations. syndee's technique uses the larger ball stylus to create craters of color. Souffle clay particularly lends itself to this technique with vibrant colors and crisp patterns.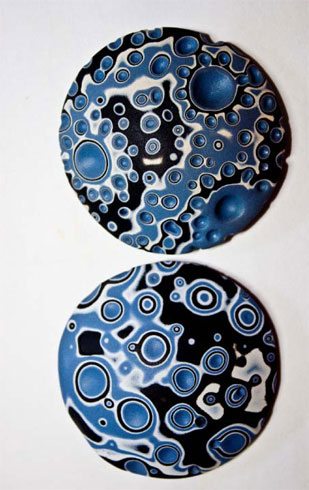 Use some more organic colors and create an elegant faux turquoise.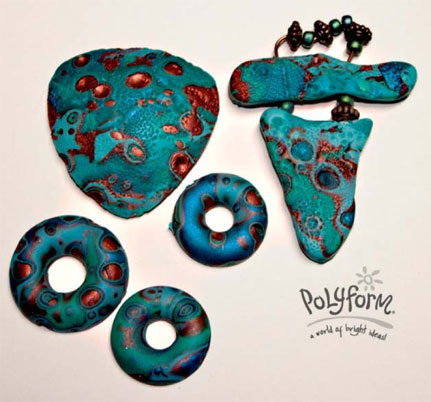 How about if you don't even slice the surface, but dig through it with the ball stylus?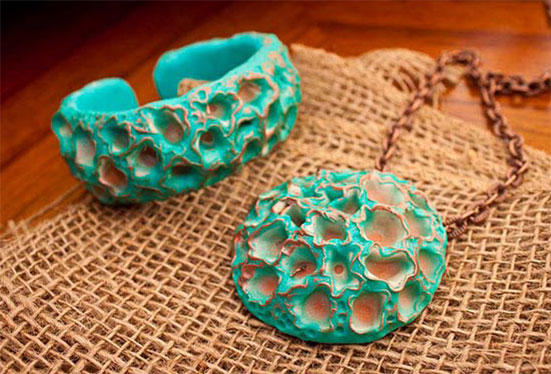 Students will learn sydee's basic technique and then create rounded pendants on hollow bead molds. They will also learn how to put the slices into cabochon molds and backfill them with contrasting colors. syndee will show them how to fashion organically shaped cutters and how to use the cutters to make rounded edge to their shapes.
This class has successfully been taught to beginners as well as intermediate students with everyone having an absolute blast. All clay and tools provided.
syndee holt been an independent designer for Sculpey (Polyform Products) for over 18 years and she currently serves as the Polyform Brand Ambassador. cyndee is a founding member and former President of the infamous San Diego Polymer Clay Guild. She's written over 100 articles for crafting magazines both national and internationally.  In addition, she wrote Polymer Clay for the First Time, which is still available through amazon.com.  syndee has also made about 33 television appearances on HGTV, Discovery, DIY, and more.
Want to see more of syndee's work and see what a treat you're in for? Just follow these links.
Stay tune for more about the exciting artist that will be here in June, Randee M Ketzel