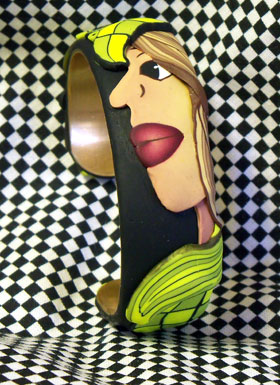 I've been working on several things today. This is just one of the bracelets I've finished and I'm working on a cocktail shaker. Too Funny! This girl has a flamboyant hat as always and a checker board blouse that matches the lime green checker board bracelet I posted yesterday.
Over on Facebook, I had so many people talk about loving the lime green color that I thought I'd share the recipe with you. I know that I am not the first one to print this, but to tell you the truth, I have no idea where I discovered it. I do think pairing the two colors is something I did on my own years ago.
Lime Green Recipe
1 part Zinc Yellow
1/16 black
Yep, that's it! That's all there is to it, and the second color is Zinc Yellow straight out of the package. When placed next to the lime green it looks like a light lime green. Easy, breezy.
Go Green!