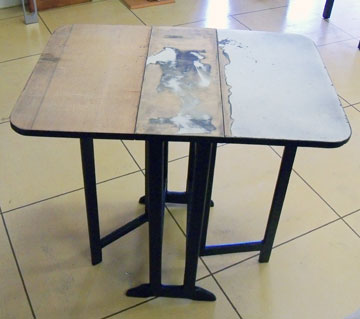 I'm still waiting for the black and white tile to be delivered for my pink flamingo bathroom…see the post below. While I'm waiting, I thought I'd show you my other project.
This is a cute little gate-leg table I found about 6 years ago at a thrift store. I think it's probably from the 20s or 30s. It just screamed to be taken home and covered with polymer clay. Then poor little thing, it's been sitting in the corner for all these years and just last week got a good coat of black paint on the legs.
So now I just have to design something for the top. I'm so torn between putting several of my girls on it and doing something serious. Okay I can hear you and I agree, why try to be serious now? Okay so help me here, tell me should I put lots of girls or make a new giant cane and add two large girlfriends? I can almost see it now can you?
Here's the table closed. Isn't it cute?