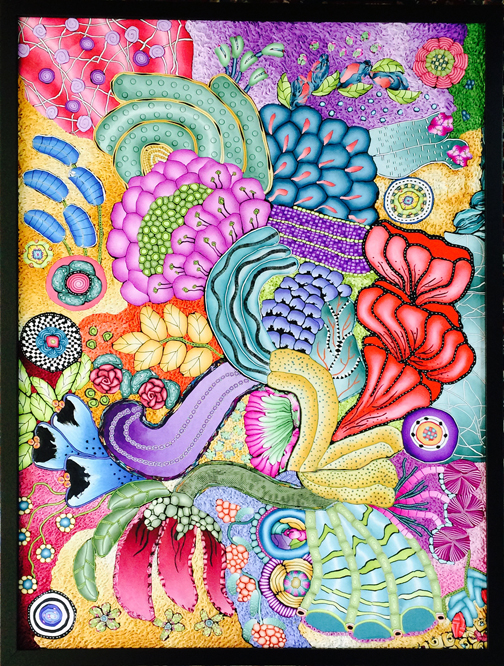 My newest wall piece, Into the Garden, 21″ x 29″.  It's funny, I had this almost finished month's ago, before I bought my new Studio. I sat down with it again and decided to double the size. I worked on it feverishly for days, took pictures to share on Facebook and realized by looking at the photos that I had actually done two completely different pieces.
I shouldn't share them with you, but hey, we all make mistakes right? I was lucky that I could save this one and I almost have the second one finished. So I still don't have my larger one, but I will have two smaller ones instead. Both will be for sale at Studio 215.
Here's the photo of the larger one almost finished. Can you see the two different styles? Just goes to show you that switching in the middle requires a bit of planning,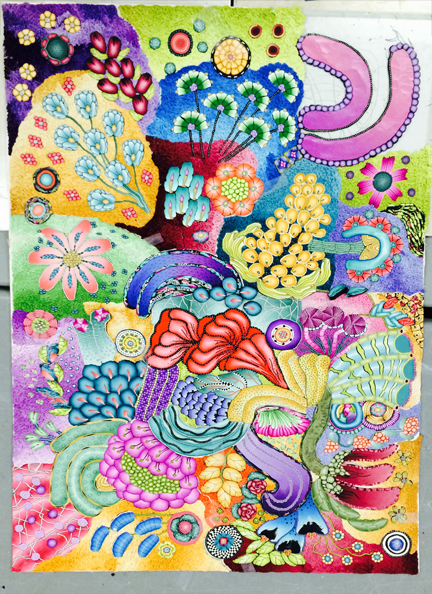 The bottom part, the part I did months ago is very tight, with flowers touching flowers. the top part has more background, more loose flowers. You can almost see how much I wanted to get this one finished and up on the wall.
Lesson learned. I always take pictures and take a good look at my projects that way, sometimes we are just too close.
I've been posting to my new blog for Studio 215, head on over there and sign up for updates when I post and for my newsletter letting you know what's going on at Studio 215.  I shared snydee holt's visit and our encounters with alligators there the other day.
 I also have a new page on Facebook,  Alice Stroppel's Studio 215  what else? I'd  love for you to like it and share it with your friends.
Here's a list of all the workshops I have coming up at Studio 215. I'm having lots of workshops for beginners but I have will be adding more classes all the time. I sure hope you can join me some day.