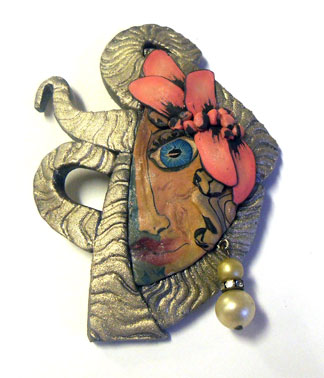 Another day of experimenting. Mica powers and Barbara McGuire Stamps, found jewelry and a piece of the face cane. Can't decide if I want to make it a necklace or a large lapel pin. It measures 4 1/2″ x 3 1/2″ so it's large.
This is one of those that, like Kate from Shibori Girl Blog felt about her latest cuff bracelet, this one is going to have to stay with me.
Somehow it baked too long and turned brown, so I had to add the leaves to the hat and bake again. The face is still to dark, but I'll wear it or just hang it on my wall. I loved making it because it was so different.
I did add one of the bracelets to my Etsy shop in case anyone thinks they just can't live without it.
I'm still having fun in the studio after all this time.