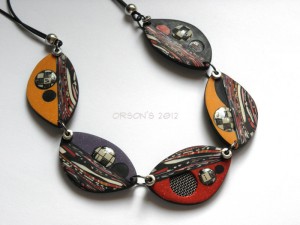 Once again I'm thrilled that a talented artist decided to try the Stroppel Cane and then to top it off was willing to trade with me.
I love this piece that Nikolina created just for me using a Stroppel cane and her signature crossword puzzle accents to spell "alice". I can't wait to for it to get here, it's coming all the way from Croatia.
As I said before, it's a wonderful experience with the added bonus of being able to see fantastic work up close and learn from one another. Thanks Nik!
You can see more fabulous work for Nikolina on her famous flickr site Orson's World.
Here's my part of the trade.