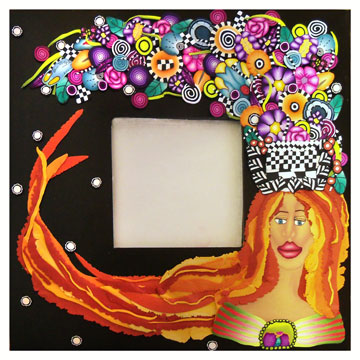 I had this portrait  idea in my head for awhile now and thanks to an idea nudge from a flickr friend I finished this girl last night. It's a portrait mirror, I just covered the mirror part because of the reflection.
I've been having fun trading with new friends on ficker. I traded with Doreen Bell, an amazing Mosaic Artist,  you can see her work here on Flickr. I traded several of my girls for a project she wanted to work on involving a mirror and the Seven Dwarfs of menopause. Here's the crazy funky wonderful "Libby the Librarian" a hand held mirror Doreen created to make me laugh.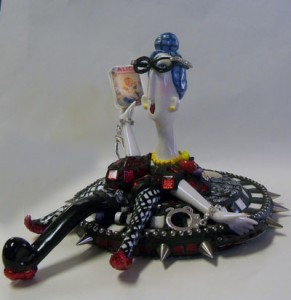 And you just gotta laugh at this girl. She's even reading Alice in Wonderland.
Anyway, my girls on a mirror, I thought hmmmm sounds interesting, so I borrowed her mirror idea, thanks Doreen, and created the girl above. We Never Stop Blooming.
The other fabulous mosaic artist that I traded with is Laura Pattison in Spain. She wanted a crazy business card holder and I wanted one of her famous rainbow mosaics. I think we are both happy, I know I'm more than thrilled. You need to check out Laura's work here on flickr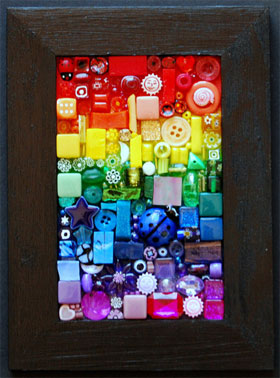 So  that's what I've been up to, plus a hundred other things, *g*. Have a great week-end.