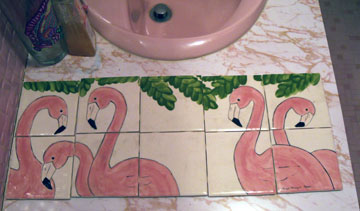 I made these flamingo tiles at my friend Janet King's studio years ago when we had a pipe burst in my studio's bathroom and we had to have the whole house re-plumbed.  I won't tell you how long ago….no…….don't ask to me to…. please. I had never taken a shower down here anyway.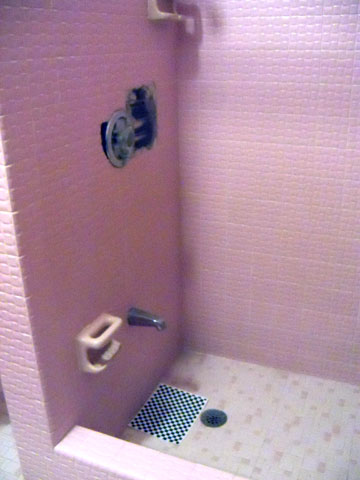 So, we are finally getting the floor of the shower repaired and the big hole in the tile filled in. You have to understand this house was built in the late 60's and it is not your typical construction even for then. But these tiles are unique to say the least and we could never find replacements so I made the Flamingos.
I made Flamingos because……….the room is pink, I mean P.I.N.K. from floor to ceiling……..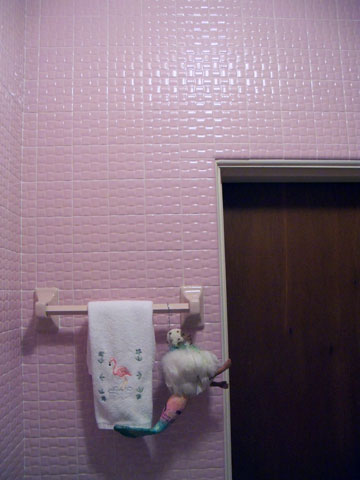 See what I'm talking about? Seriously, who does this? So what else could I do but flamingos? I am way too old for Barbies.
Anyway, the exciting part is we are putting down black and white check on the floor of the shower and on the counter top. It is going to make me smile everyday. How fun is that? Plus I finally get rid of that really ugly counter top.
My husband actually said he is going to like it. What? Is this the same man from the year of the bathroom flood? My how time mellows, but more than that I guess he finally realizes I will never give up my studio and has embraced my weirdness.
I always say there is a reason for everything and maybe not doing the repair was to give him time to realize how cool  I am.  *G*
So if I'm missing for a while, I'm working on more flamingos for my pink bathroom. Plus I have another project I want to start soon too. I'll show you that next.