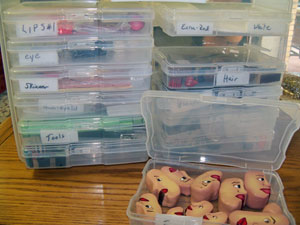 If you know me at all, you know I love to keep my canes organized. Well I found this photo storage box on sale and stood there for a long time trying to figure out just how I could use it for my canes.
Well it's better than that. It makes a perfect portable project container. I used it for the first time last Tuesday for my beginners class, placing each step of each project in separate boxes. It made the presentation so much easier.
Yesterday I loaded it up with the steps and components for my Profile Face Cane class that I'm teaching tomorrow in Leesburg for the Orlando Area Polymer Clay Guild. Everything is laid out and in proper order. I can't believe myself! Kind of scary I guess.
I still use the plastic drawers that I've featured in my video "How to Store Polymer Clay Canes", I've just added another wonderful way to carry my canes with me.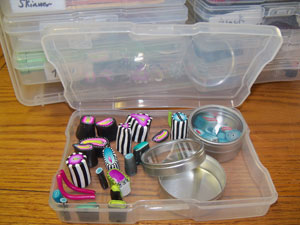 Here is another thing I found on sale about 3 months ago and really couldn't live without now. In fact, they were on sale again when I bought the photo boxes and I bought another set.
The little party favor boxes are perfect for holding the smallest of my smallest canes. It keeps them from getting lost and sticking to all the other canes. I use them for other things too.
It's been a busy week but I was so glad to spend the day on Wednesday with a friend from high school, Nancy Bryant. She and I came across each other on Facebook and when she knew she was coming home for a few days, we met for lunch. She 's an artist and she enjoyed spending time in my studio and I enjoyed seeing some of her work when we finished up the day at her mother's house.
I do want to thank her for taking so many of my pieces home with her. I always makes me feel wonderful when friends like what you create.
To all who are taking my class tomorrow, get ready, we're going to have a great time.