I haven't been claying, I've been beaching…………
I went away for a four day week-end with 6 of my girl friends and we stayed on a fabulous island off the coast of Florida. You can only get there by boat and once there travel around on foot or by golf cart.
The house belongs to a very good friend and I love going there, it is the most relaxing place to be that I can think of. We are all praying that  it will stay free of oil from the spill. Both on the inlet side and the ocean side, the water was unbelievably beautiful and clear. We all were so appreciative of everything on this trip, we don't want to lose it.
Glorious! I got up very early one morning to catch the sunrise. It was beautiful as you can see by the photo and I just had to share it.
I do want everyone to know that the coastline of most of Florida is still oil free and you should come and enjoy it. Tourism has practically stopped here, and we need you to come if you were planning on it. Please don't stay away because of what you think might be happening.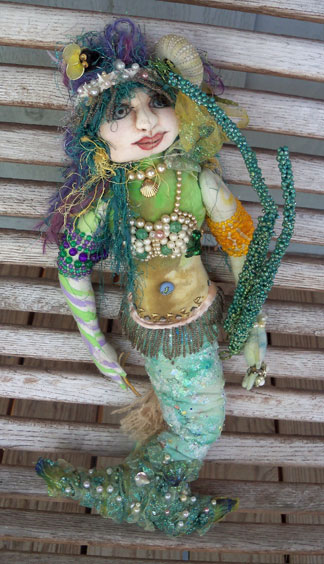 I also remembered this time to take a picture of the mermaid we made for the our friend that owns the house. On one of the trips a couple of years ago, I brought some fabric and some paint and gave everyone a piece of fabric and asked them to paint something. I didn't tell them what I was going to do with it until later.
I took all the pieces home with me and made them into the body of this mermaid. I did her face and hair, added a few things of my own and then sent her off to one of my friends with instructions to add whatever they wanted to and then pass her on.
That Christmas, we presented our friend with the finished mermaid. She has lived at the beach house ever since. I didn't take pictures then, so I was happy I remembered to take some this trip. I thought it was fun and I'd really like to do it again.