I've been working with Ultralight a lot lately, using it as a core for many of my larger bracelets and beads. I used it as a core for my Woman in the Moon and she's easy to wear.
I didn't use it as a core for this flamingo, I was experimenting with Super Sculpey as the core as it's a bit easier to sculpt with than the very soft Ultralight.  It's heavier for sure and I won't use it again as the core for bracelets this thick.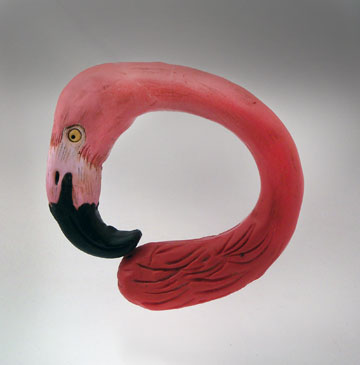 I've started a series of bangles using this method and I'm really jazzed about them. Right now I'm working on streamlining the process and learning the tricks of working successfully with the softer clay. It's so much fun and I want to be able to teach others how to create their own characters. There is no limit to what we can come up with, here's a toucan.