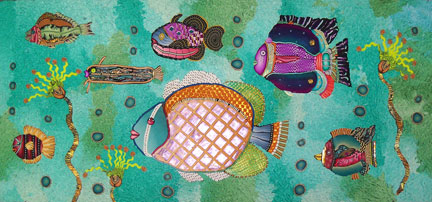 Happy New Year Everyone! I can't wait to get this new year started, I truly finished with 2013 and I'm looking forward to an inspiring 2014.
I finished this fantasy fish painting a couple of weeks ago but couldn't post it because if was a gift for my oldest son Brad. Brad is a master diver and often spends time in an underwater world. It's safe to show it now, he has it and hopefully it's up on a wall somewhere.
This painting is 9″ x 20″. I'm working on two more large polymer clay paintings now. One is huge, 28″ x 40″ …I know, I'm a little bit crazy, but hey, what's the worse that can happen? That's one of the things I love about polymer clay, if you don't like what you've done, just start over. The clay can be recycled and isn't lost.
Someone asked me to show a photo of the work hanging on the wall. Here's a shot of some of the painting hung. It's a new wall, that is, we rearranged furniture and there I was with the beautiful long wall to decorate, so it's still a "work in progress" but I'm enjoying having some of my polymer painting in my house and not just in the studio.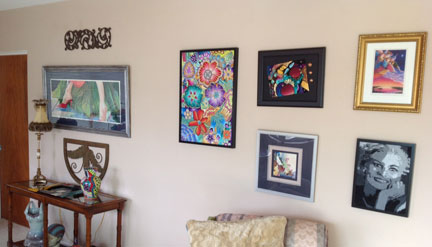 Have a great year!
Oh and by the way, I'm adding the fish picture again because Facebook only gives me the last photo as the image to post to my page. Use to be you had a choice…geezzzz.