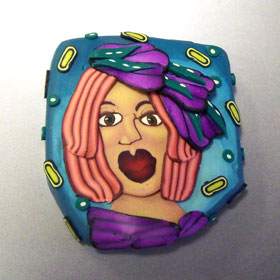 My friend Laquita Carter came to visit yesterday and we had another fun clay day.
I had an old small face pin sitting on the table and Laquita said she wished I had some of those for sale on my Etsy site. She wanted to buy that one, but I said, "why not make one". So that's what we did.
We both used the same face and came up with completely different characters. Mine is the one shown here and I know you will find this hard to believe, but yet another clay day went by and I didn't take a picture of us, what we worked on or anything. As soon as Laquita left, I did the slap up side of my head move and almost ran down the road to get her back.
I'm going to email her and ask her to send a picture. The most important thing was that we had a great day and enjoyed and learned from each other.
She even brought me some of two really cool canes she made and some color recipes with chips. That was great, thanks Laquita
I have to put the pin back on this girl and then she'll go in my Etsy shop. I think I'm gonna make some more.  This one is 1  1/2″X 1  1/2″. Little but really catches your eye.