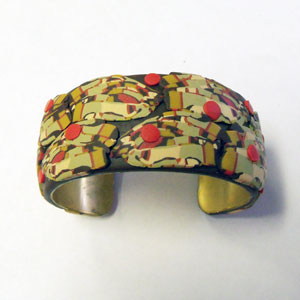 I made this bracelet and another, to match the necklace in yesterday's post. I wore them both last night and got quite a few compliments. but the necklace was really the star. It hangs in this wonderful large cluster and you can't miss it.
I made the canes, baked, put together the necklace and two bracelets in one day and baked them and wore them that night. I LOVE that about polymer clay. The instant gratification.
You know the famous line, "oh this old thing" when someone compliments someone about what they are wearing? Well that's what I feel like when they ask, "where did you get that?" and I say "Oh this, I made it today"
Play with clay, that's what I say!